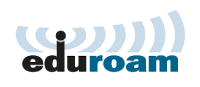 eduroam
"eduroam" service (https://www.eduroam.org/) is available at many buildings (including IQBRC 1F, Tokai 1Gokan 1F, J-PARC Research Building, MLF, neutrino and Hadron facilities) at J-PARC. J-PARC does not specifically limit the access to the outside by port or address, but for the time being, the realm of @jaea.go.jp cannot be used. Click here for available locations and driving conditions.
User LAN
User LAN is a wireless internet connection service for J-PARC public users. To use the network your login ID of J-PARC/KEK user support system is required and the account is authorized as an on-going J-PARC experiment users for this JFY. Please read a manual.
Authentication does not work well (April 2022). When "Userlan3" does not work, Try to use GWLAN3. You have to input weekly password at authentication page (via internet browser). Get the weekly password and connect to GWLAN3!(PDF)
GWLAN (For temporary visitors)
GWLAN is a wireless internet connection service for short time visitors who attend to a meeting at J-PARC. Please ask the secretary of the meeting about usage of the GWLAN.
J-PARC LAN (JLAN) connection
JLAN is an internal network of J-PARC center. Unless you definitely need to access to the JLAN for data analysis or other purposes, please consider to use eduroam or User LAN. To use JLAN, you are required to apply J-PARC mail account at first and then apply to JLAN connection. Security inspection to PC that will be connected to JLAN is required as well. It takes a few weeks to complete this procedure. See here for more details.
JLAN-VPN application
J-PARC users are only permitted to use VPN when it is recognized that the use is essential for J-PARC operations, etc. Please see here for more details.