Procedures upon arrival at J-PARC
Procedures upon arrival at J-PARC
For who arrive during Users Office hours (9:00am-5:00pm weekdays)
Please note that you will not be allowed to enter the site without performing advanced procedures ahead of 3 bussiness days prior to your visiting. When your application is approved, Users Office send an confirmation e-mail.
[User ID Card, vehicle permission pass, dosimeter]
Please receive your J-PARC User ID Card, vehicle permission pass, and Glass Badge at J-PARC Users Office before entering the site. No further procedures are required at JAEA main gate.
Please show your personal ID such as passport or Japanese driveres lisence to receive User ID card.
[Loan items]
Items such PHS (handy-phone for internal calls at J-PARC), cafeteria cards and bicycles are available for loan during your stay.
As quantities are limited, there may be shortages of items at times. As a rule, advance reservations are not accepted.
[J-PARC safety education]
You will watch a safety DVD and receive various items upon arrival at J-PARC.
Click here for details on how to make a reservation
Checking point of User ID card at JAEA Main Gate
To whom useing cars, motorbikes, bicycles and walkers.
When you enter the J-PARC Site, to make the guard can confirm your ID easily please put your User ID card above the handle and the Vehicle permission pass must be attached upper center of the windshield.
We ask for your understanding and cooperation.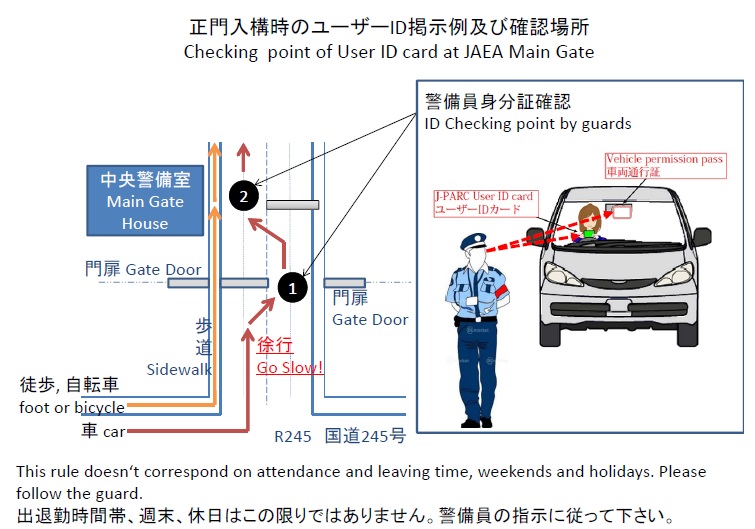 ○(PDF file) Checking point of User ID card at JAEA Main Gate